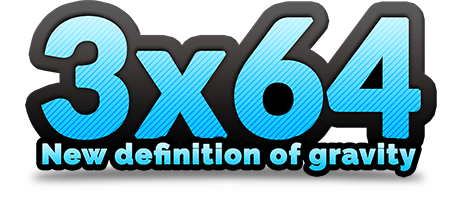 3x64
Christmas Event (Game Mode)
---

Connect the Christmas spirit with your gravity skills in a special Christmas game mode and win rewards!
Christmas time is here, and even though we still have a lot of work ahead of us when it comes to improving the game in upcoming updates, we decided to spend part of the last month making something completely new. We are bringing you our very first seasonal event!
We did not have much time due to our participation at Game Developers Session, fortunately things went quite well and we have managed to prepare a brand new game mode in time.
What is the Christmas Event mode?
The mode mostly expands upon the original game mode with a new frost mechanic! Everytime the gravity changes, all blocks are frozen and become solid. Fortunately, TNT blocks are ready to help you unfreeze the frozen blocks. And because threat blocks hibernate during Christmas, you don't have to worry about them!
¨
Event duration
The event is time limited and is available until Sunday, 12 January 2020. During this period, you can send your scores to a special Christmas leaderboard.
Rewards
The best player will win a special icon, which will be always present next to their nickname in all leaderboards!

Additionally, every player who reaches at least 1000 points will receive a special set of Christmas threat skins, which can be activated in-game at any time.
Holiday Sale
During almost whole event, there is also 15% discount for the game as part of the Holiday Sale, so if you haven't the game yet, take advantage of the first discount since the release :)