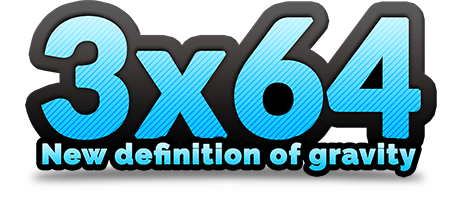 3x64
By the power of magic, all destroyed threat blocks come to life and now they have only one goal - revenge!
Shortly after the anniversary update, we have new content for you - all destroyed threat blocks in 3x64 are now coming back from the dead and once again they will try to endanger you. Our first Halloween event with a new unique game mode is here, with pumpkin TNTs and ghost threat blocks!
First something about the background of the event. I have to admit that this was the hardest event so far. The gameplay and technical side isn't so complicated like our previous community event (Destroy Threats Together), but there was a very little time after releasing our anniversary update. Halloween is a great theme for 3x64 with all those powerups and threat blocks, but until the last moment I couldn't find the right gameplay. But because the last year we were launching the game during halloween and there was no time for special content, I didn't want to miss it this time. Fortunately, after many experiments, I figured out the right gameplay mechanics yesterday afternoon and event is ready now!
What is Halloween mode about?
The mode mostly expands upon the original game mode, but instead of classic threat blocks there are randomly spawning ghost threats! You can eliminate them immediately in their spiritual form before they transform to the blocks around - after transforming you have another 5 seconds for elimination just like the normal threat block. But be aware of transformed threats - they can be much more dangerous than normal threats! Also you have access to a unlimited supply of pumpkin TNTs during this mode!
how long does the event last?
The event is time limited and is available until Friday, 13 November 2020. During this period, you can send your scores to a special Halloween leaderboard and win rewards.
Rewards
The best player will win a special badge 'Ghost Threats Buster', which will be always present next to their nickname in all leaderboard.
Additionally, every player who reaches at least 800 points will receive a special set of Halloween threat skins, which can be set from the new rewards menu.

You could notice a 30% discount with the Czech and Slovak Games Week event on Steam, which the game has been part of starting October 26. It's the highest discount since the release as we celebrate one year of 3x64, and the discount will continue until the end of the Halloween event. And because itch version hasn't any discount before the event, it will be available 3 days more here :)
I hope you will enjoy this event, I'm really glad we managed to bring it on time. This time the event isn't as big as the previous one, but I think it will bring a nice halloween atmosphere to 3x64 :) Unfortunately due to lack of time, the event isn't compatible with our leaderboard replays, but as compensation, we bring you brand new music that our heroic composer Peetrangelo managed to make at the last minute :)
As always, we will be very happy if you share your feedback about the event and I would like to thank all the players for the feedback regarding the anniversary update. All bugs and issues will be very soon resolved in future updates, most likely before the end of the event :)