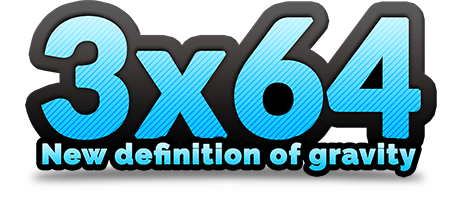 3x64
Retro minigame available!
---
On April 1, you could try what 3x64 would look like if it released decades ago. The retro minigame was quite popular and we decided to add it to the core game at some point, so that it wouldn't be forgotten. And from now it is finally available along the game :)
The minigame is almost identical to the April version, but we made some updates. A game menu and icon of upcoming block has been added, and the new version also supports gamepads. The support of gaming devices is a feature that will come into the main game very soon.

The promised 1.3 update for the main game is approaching for the one year anniversary of the game next week. We have already introduced the biggest news on our social networks and the update will be really big - in short, it will offer game quests you can complete to increase your rank, support for more gaming devices, completely redesigned menu with new features, cloud support and many other changes and fixes.
All new features are currently in beta testing, but if it goes well, it will be available in exactly one week. We will then look forward to your feedback - in the meantime you can shorten the wait with this retro minigame!
Files
3x64 Retro Minigame (Linux).zip
27 MB
Oct 14, 2020
3x64 Retro Minigame (Windows).zip
24 MB
Oct 14, 2020