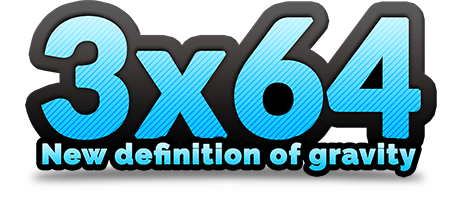 3x64
Conclusion of the Destroy Threats Together event
---
The Destroy Threats Together event was very special for all of us. It wasn't exactly planned but due to situation in the world, we had to stay home just like many of you. It wasn't easy but in the end, it gave us a unique chance to try something different - the first community event in 3x64!
I am very happy to say that we succeeded - with the last day of the event we destroyed all 6400 blocks which threatened our game! It's an incredible number and it's amazing that 22 unique players took part in it :) The community destroyed 35% of all threats, the remaining 65% was up to us, the developers. More detailed numbers will be shown below, now I want to congratulate 3 players (except me) for getting the personal reward and also to each participant for getting special threat-themed motive for the menu.

And the biggest congratulations belong to the event winner morrelo with incredible score (9118)! The leaderboard badge 'Threat Slayer' travels to him :)
Conclusion and next events
At the beginning we chose a little high amount of threat blocks to eliminate, so we were counting on the help of the community. It was intended as the last big update for a while because we want to spend more time developing the mobile version, and possibly new features for the PC.

But the results are very inspiring for such a small puzzle game - at this place I want to give special thanks to isthereanydeal.com for featuring our game during a significant part of the event, and I hope it brought many new players into 3x64 :) Don't forget to check out other interesting indie games which are regularly featured there!
We're definitely planning more content and events this year, especially for autumn when the game will have its one-year anniversary, and we will also make a special April Fool's version available for you as a free DLC very soon.
At the end I want to thank everyone for the participation. It was a really exciting experience because it was our first community event, and I enjoyed seeing all players unite together with one common goal in mind :)