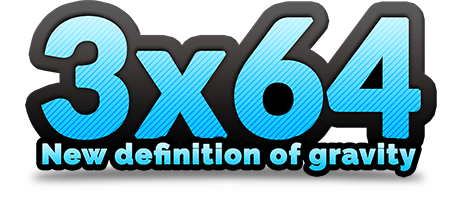 3x64
Destroy Threats Together (Event)
---
Along with many other games in #PlayApartTogether campaign, we prepared a special event for you at the times when many of you are staying at home and saving the lives!
Since the last event, the amount of threat blocks in 3x64 was dramaticaly increased and we have to eliminate them all! However the threat blocks are spawning in waves and you have to deal with multiple threats at once!
What is the Destroy Threats Together Event?
Special event game mode is based on Classic game, but threat blocks are coming in waves and you have to eliminate them very fast! For the first time, there is also a community goal with an exclusive reward.
Event duration
The event is time limited, and will be available between May 5, 2020 and June 2, 2020 (18:00 UTC). During this period, you can destroy in-game threats, win rewards and try to master the special event leaderboard!
Rewards
Player who is in first place at the end of the event will receive a unique badge 'Threat Slayer' which will be visible next to their nickname in all leaderboards.
Eliminate at least 500 threat blocks during the event to get a permanent in-game bonus 'Threat of Misfortune'! With this special ability, you can destroy every first spawned threat block in any game mode.

After the community destroys 6400 threat blocks in total, every event participant will receive a special menu theme!

Event progress and discount
You can easily see the current progress and event leaderboard on our website. Also the first two weeks of the event 3x64 will be discounted by 15%. The discount lasts until May 18!
We hope you will enjoy destroying all threats, good luck!
Files
3x64_v122_Linux.zip
41 MB
May 05, 2020
3x64_v122_Windows32bit.zip
39 MB
May 05, 2020
3x64_v122_Windows64bit.zip
42 MB
May 05, 2020